Chapter Officers
Marissa George
Chief Executive Officer
Marissa George is a junior from Medina, Ohio. She is a Cell and Molecular Biology major with a Leadership Minor. In addition to her position as Chief Administrative Officer for Theta, she is also a member of the Leadership Scholars Program and the Honor's Program, where she serves as an HP Group Mentor. Marissa has participated in John Carroll's Immersion Program which allowed her the opportunity to travel to Pine Ridge Native American Reservation, South Dakota, and is a part of the Pre-Health Soccer and Pre-Medicine Club. She also serves as a Blue Streak Ambassador and works on campus at the Center for Career Services. The CEO is the leader and model of young womanhood for the chapter and should empower and enable other aspiring chapter leaders. The CEO is ultimately accountable for the events, actions, and programs of the chapter. She communicates regularly with the advisory board chairman.
Madisyn Bell
Chief Operating Officer
Madisyn is a junior from Ithaca, New York. She is a biology major with a chemistry minor. She's a member of the Pre-Health Society and Pre-Medicine Club. She hope to pursue a career as a physician assistant. Madisyn recently traveled to Honduras through the immersion program and was able to serve on numerous medical brigades to provide health care to those in the most rural parts of Honduras. In my free time she loves spending time with friends and seeing new parts of Cleveland!
Rachel Unites
Chief Administration Officer
Rachel Unites is a junior from Mentor, Ohio. She is an Accounting major with a minor in Communications. In her free time, she enjoys watching Netflix, crafting, and hanging with her sisters on the floor! When she is at home, she also likes hanging out with her family and Golden Retriever. As chief administration officer, Rachel takes roll, manages the chapter roster, and records minutes at chapter and executive meetings. In addition, she manages communication with chapter advisors and other correspondents. Her responsibilities also include leading the bylaw committee, facilitating a LEAD workshop for officers, and coordinating visits with advisors.
Lauren Isherwood
Chief Recruiting Officer
Lauren is a senior from Buffalo, New York. She is a Management Human Resource major and a Population and Public Health minor. When she is not busy recruiting new members for Eta Kappa, she is working as a tour guide for JCU or performing service in the surrounding Cleveland area. Her favorite part of Theta is the opportunity to meet incredible women and to experience life with her sisters by her side. Whether it be traveling with her sisters, or taking a weekend trip to another city to visit another Theta's hometown, there is nothing better than making memories together. Lauren has found her second home with Eta Kappa of Kappa Alpha Theta and serves on the executive board as CRO. Lauren's position as CRO entails facilitating recruitment and working with Panhel. For Recruitment, Lauren hopes she can inspire young women to join her chapter and show women about the strong sisterhood bond. Lauren's second is working with Panhel. She informs Panhel on upcoming events Kappa Alpha Theta has planned, as well as other exciting news about the Eta Kappa chapter.
Erin Feigel
Chief Marketing Officer
Erin is a senior from Rochester, NY. She is a Marketing major and Entrepreneurship minor! She loves hanging around her sisters and participating in activities on campus. She also enjoys traveling and studied abroad in Madrid during the fall semester of her junior year. As the Chief Marketing Officer her duties involve running social media, our chapter website page, and philanthropy events. She dedicates time to service and helping others complete our 8 hour service requirement per semester. Theta supports three philanthropies: CASA, The Kappa Alpha Theta Foundation, and The Friendship Fund. Browse through the website to find out about each one!
Olivia Spearman
Chief Financial Officer
Olivia is a junior accounting major at JCU. She loves to play softball and be active. Olivia is fun, loving, and loves her Theta sisters! Her puppy Paisley is her favorite animal in the whole world. As Chief Financial officer, Olivia is in charge of the financial security of the Chapter. She bills members, creates a budget for the fiscal year, and reimburses members and officers for chapter expenses.
Bridget Fichtner
Scholarship Director
Bridget is from Rochester NY. She is a senior Management and Human Resource major at John Carroll. In her free time, she likes to do yoga, dance and hang out with her friends! With her position, Bridget is responsible for making sure each member has the tools needed to reach her academic goals. Some of the tools consist of academic mentors, Theta Foundation scholarship opportunities, incentive programs, and acknowledgment of the chapter's and individual member's success at the Leading Women's Brunch.
Maddy McBride
Event Director
Maddy is a junior from Brecksville, Ohio. She is an Environmental Science major and an Economics minor. Maddy is Eta Kappa's Event Director. She organizes sisterhood events, mixers with the other fraternities and sororities on campus, and coordinates three dances throughout the school year. When Maddy isn't busy with her position, She is also a member of the Honors Program, treasurer of the JCU dance team, and an undergraduate researcher. In her free time, you can catch Maddy napping, laughing, or studying!
Hannah Hill
Chief Education Officer
A Cleveland local from Parma, OH, Hannah is in her third year at John Carroll. When she is not educating our newest members about what it means to be a leading woman of Theta, Hannah is a member of the John Carroll Women's Golf Team and works in the athletic department. She came to JCU because of the welcoming atmosphere and hopes to bring that same sense of comfort to those around her.
Isabella Carlozzi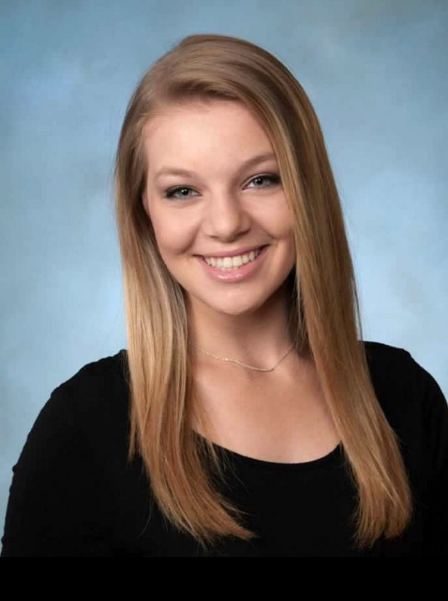 Facility Management Director
Bella is an aspiring third generation dentist, majoring in Biology with minors in Leadership and Spanish. She is a part of the Leadership Social Committee, Pre-Dental club, and has recently taken on the position of Facilities Management Director in Kappa Alpha Theta. Bella looks forward to new friendships and accomplishments as she journeys through life!